Wednesday, 06 February 2019
Big cities are often face the problems in the matter of limited land which have been turned into residences and office buildings, and it results to the limited area for green and open spaces as well. However, the Surabaya City Government keeps optimized the existing area for green and open spaces. One of the newest ones is Taman Suroboyo. It is located in Jalan Pantai Lama, Kenjeran, in North Surabaya and it was built right in the side of Kenjeran beach. This park can become the 'shade' from the strong heat of the sun.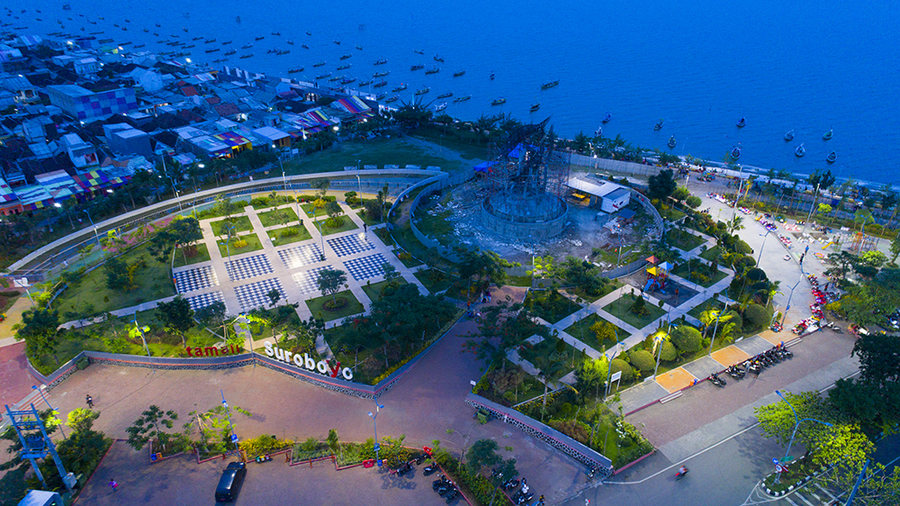 This park was built right in the beach, facing the Madura Strait and it makes this park become a special attraction for the visitors. Facing the open sea makes this park become a destination for those who want to chase after the sunrise and sunset. The visitors can sit facing the beach, enjoy the breeze of the wind while seeing the red and orange strips in the sky. They also can go to the sea by riding the fishermen boats. Here in park, they also can go around this park by renting the uniquely designed bikes available.
In the area of 11,000 square meters, there are various kind of plants and trees which add up to the green situation of this park. The green grass lied here also add to the beauty of this park. Taman Suroboyo has many public facilities that can be used by all visitors, such as children playground, roller blade arena, futsal field, and big parking space.
Taman Surabaya also used as jogging place for the visitors. They also can play kites by using the blowing wind and wide-open space. They can find many kite sellers around the park, and the kites can be bought for around 5 thousand rupiahs.
They also do not need to worry when they want to fill their tummies. Here in this park, there are many food sellers who sell the specialties like lontong kupang (small mussels and sticky rice cake) and sate kerang (small clamps satay). They also do not need to worry about the price either, because the food sold here are affordable. If they feel like the food do not match with their appetite, they can move to Sentra Ikan Bulak (Bulak Fish Center), or commonly abbreviated as SIB which is located right in front of the park. Here in SIB there is a culinary center which has many food sellers, as well as sea products that can be brought as souvenir.
This park is not only suitable to be visited in the morning or evening, but also in the night. When the night comes, the weather will be friendlier because there will be no strong heat from the sun. In the nighttime of Saturday or Sunday, the visitors can see the dancing and colorful fountain which is located in the left side of this park.
Taken from Buku Lingkungan, published by the Public Relations Office of the Surabaya City Government